Notice: Users may be experiencing issues with displaying some pages on stanfordhealthcare.org. We are working closely with our technical teams to resolve the issue as quickly as possible. Thank you for your patience.
We are available to assist you 24/7.
New to MyHealth?
Manage Your Care From Anywhere.
Access your health information from any device with MyHealth.  You can message your clinic, view lab results, schedule an appointment, and pay your bill.
---
Experts in the Treatment of Lymphomas
The Stanford Lymphoma Program is comprised of a dedicated core of individuals who have pioneered significant advances in the treatment of lymphoma. Members of this team are routinely recognized and awarded for their contributions to the treatment of lymphoma for both adults and children. 
Lymphoma Program
Our Advanced Practice Providers
Care and Treatment of Lymphomas
With a 40-year history of innovation, Stanford's Lymphoma Program is at the forefront of developing novel treatment approaches for lymphoma for both adults and children. Our program is a major referral center for patients across the country. Our expertise allows us to provide a comprehensive approach to patient care, including:
The most current and up-to-date standard of care.
Collaborative team of lymphoma experts in medical oncology, radiation oncology, pathology and radiology that offers integrated care for patients.
Our doctors specialize in treating all sub-types of non-Hodgkin's and Hodgkin's lymphoma.
Extensive expertise available to handle the most complicated cases
State-of-the-art clinical trials bring to patients promising new treatments, such as targeted therapies, novel agents and vaccines that are often not yet available at other facilities.
Additionally, we offer national cooperative group clinical trials that lead the integration of new drugs and imaging techniques into front-line therapy.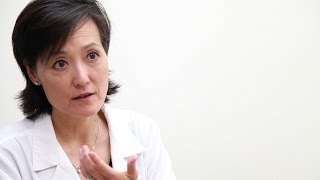 Youn H Kim, MD, Director of Stanford's Cutaneous Lymphoma program on her passion for her profession as a dermatologic oncologist.
Our Patients
After struggling to treat a persistent rash, Paul Raffer learned it was a rare blood cancer called mycosis fungoides. Individualized treatments saved his life.
Clinical Trials
Clinical trials are research studies that evaluate a new medical approach, device, drug, or other treatment. As a Stanford Health Care patient, you may have access to the latest, advanced clinical trials.
Open trials refer to studies currently accepting participants. Closed trials are not currently enrolling, but may open in the future.
PREPARE FOR YOUR APPOINTMENT
Review the New Patient Packet for information about:
What to expect on the day of your appointment
Maps, directions, parking, public transit options, and contact information
Other patient resources
Bring completed forms found in the Lymphoma New Patient Letter.
MEDICAL RELEASE
Please fax the Medical Record Release Form to your new patient coordinator. The medical release form is an authorization form for external facilities to release medical records to Stanford Health Care.  
Call us to make an appointment
For Health Care Professionals
PHYSICIAN HELPLINE
Phone: 1-866-742-4811
Fax: 650-320-9443
Monday – Friday, 8 a.m. – 5 p.m.
Stanford Health Care provides comprehensive services to refer and track patients, as well as the latest information and news for physicians and office staff. For help with all referral needs and questions, visit Referring Physicians.
HOW TO REFER
Send referrals online
Place radiology orders
View referral status
Access medical records
Lymphoma Program
875 Blake Wilbur Drive Palo Alto, CA 94304
650-498-6000
Getting Here »