New to MyHealth?
Manage Your Care From Anywhere.
Access your health information from any device with MyHealth.  You can message your clinic, view lab results, schedule an appointment, and pay your bill.
---
Voice and Swallowing Center
Disorders involving the larynx, airway, and upper esophagus can interfere with our ability to speak, breathe, and swallow, profoundly impacting our quality of life. The Stanford Voice and Swallowing Center offers specialized evaluation and treatment of many of these disorders. If you are having problems with your voice, breathing, and/or swallowing, call and make an appointment with us today.
Voice and Swallowing Center
Care and Treatment for Voice and Swallowing Disorders
The Stanford Voice and Swallowing Center offers an extensive online resource of general health information. Please do not substitute information on this website for professional advice, a diagnosis of your condition, or a recommendation about the course of treatment for your particular circumstances. This information is not intended to be, and should not be used as, a substitute for medical treatment by a health care professional. You should never disregard or delay seeking medical advice because of what you have read on this website.
Our Patients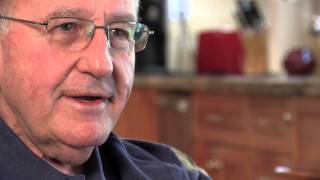 After radiation failed to treat his squamous cell carcinoma, Jerry Young's doctor performed a rare surgery that spared his voice.
Clinical Trials
Clinical trials are research studies that evaluate a new medical approach, device, drug, or other treatment. As a Stanford Health Care patient, you may have access to the latest, advanced clinical trials.
Open trials refer to studies currently accepting participants. Closed trials are not currently enrolling, but may open in the future.
PREPARE FOR YOUR APPOINTMENT
Save time in the clinic by downloading, printing, and completing these surveys in advance and bringing them with you to your appointment.

Call us to make an appointment
650-723-5281
For Health Care Professionals
PHYSICIAN HELPLINE
Phone: 1-866-742-4811
Fax: 650-320-9443
Monday – Friday, 8:30 a.m. – 5 p.m.
Stanford Health Care provides comprehensive services to refer and track patients, as well as the latest information and news for physicians and office staff. For help with all referral needs and questions, visit Referring Physicians.
HOW TO REFER
Track your patients' progress and communicate with Stanford providers securely online.
Voice and Swallowing Center
801 Welch Road Stanford, CA 94305
650-723-5281
Getting Here »