Stay Connected. Manage Your Care.
Access your health information anytime and anywhere, at home or on the go, with MyHealth.
Message your clinic
View your lab results
Schedule your next appointment
Pay your bill
The MyHealth mobile app from Stanford Health Care puts all your health information at your fingertips and makes managing your health care simple and quick.
We are available to assist you
whenever you need it.  Give us a call at 
650-498-3333 or
PHYSICIAN HELPLINE
Have a question? We're here to help! Call 1-866-742-4811
Monday - Friday, 8 a.m. - 5 p.m.

REFER A PATIENT
Fax 650-320-9443
Track your patients' progress and communicate with Stanford providers conveniently and securely.
Stanford Health Care (SHC) (formerly Stanford Hospital & Clinics)
Neuromuscular Program
The Neuromuscular Program at Stanford Health Care provides comprehensive assessment for the diagnosis and care of common and rare neuromuscular disorders.
Neuromuscular Program
Care and Treatment of Neuromuscular Disorders
Features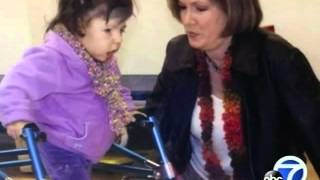 The Neuromuscular Program provides family-based care for hereditary neuromuscular conditions, treating multiple generations of families, like the Harvey family.
Features
Representatives from Stanford's Neuromuscular Clinic, Neurosciences Department, Rehabilitation, Integrative Medicine, and the new Neuroscience building construction crew all participated in the ALS Ice Bucket Challenge.
Clinical Trials
Clinical trials are research studies that evaluate a new medical approach, device, drug, or other treatment. As a Stanford Health Care patient, you may have access to the latest, advanced clinical trials.
Open trials refer to studies currently accepting participants. Closed trials are not currently enrolling, but may open in the future.
Appointments are available by physician referral only. Call us to reschedule an appointment or to schedule a follow-up appointment.
PREPARE FOR YOUR APPOINTMENT
Check in 20 minutes prior to your appointment.
Bring records or films (preferably on disc) that are relevant to the purpose of your appointment.
Bring a pen and notepad to take notes if needed.
The length of your first appointment may vary. Diagnostic appointments take one or more hours.
Returning patients or those with an existing diagnosis will see part or all of the multidisciplinary clinic team. These appointments last from one to three hours.

AFTER YOUR APPOINTMENT
To reorder a prescription, have your pharmacy call us directly with your prescription information.
Call us to make an appointment
650-723-6469
For Health Care Professionals
Unfortunately, it is not possible for us to see all patients who are referred to us. We screen all referrals to select those who will benefit the most from a consultation. Also, most of our clinics have a significant waiting period for new consultations. Please provide as much clinical information as possible so our staff may triage the referral to the appropriate sub-specialty clinic.
We recognize that some patients may need consultation sooner than routine scheduling permits. Our doctors are happy to speak with you to facilitate urgent visits on a case-by-case basis.
PHYSICIAN HELPLINE
Phone: 1-866-742-4811 
Fax: 650-320-9443
Monday – Friday,  8:30 a.m. – 5 p.m.
TRANSFER CENTER
Phone: 1-800-800-1551,  24 hours - 7 days a week
Stanford Health Care (formerly Stanford Hospital & Clinics) provides comprehensive services to refer and track patients, as well as provides the latest information and news for physicians and office staff. For help with all referral needs and questions visit Referring Physicians.
HOW TO REFER
To refer a patient, call our New Patient Coordinator at 650-723-6469 or fax the following information to 650-320-9443:
Patient's name, birthdate, address, phone number, and other relevant data
Insurance carrier and any required authorization
Referring physician's name, address, and phone number
Referral letter or a description of the patient's medical history, diagnosis and reason for referral; include issues for us to address and any preference of neurologist or subspecialty clinic.
Our coordinator will schedule directly with the patient. Our staff will usually call the patient within two to three working days of receiving the referral.
Track your patients' progress and communicate with Stanford providers securely online.
Neuromuscular Program
211 Quarry Road Palo Alto, CA 94304
650-723-6469
Getting Here »