&nbsp
Notice: Users may be experiencing issues with displaying some pages on stanfordhealthcare.org. We are working closely with our technical teams to resolve the issue as quickly as possible. Thank you for your patience.
New to MyHealth?
Manage Your Care From Anywhere.
Access your health information from any device with MyHealth.  You can message your clinic, view lab results, schedule an appointment, and pay your bill.
---
Supportive Dermato-Oncology Program
Supportive Dermato-Oncology Program
The mission of the Stanford Supportive Dermato-Oncology Program is to serve the dermatologic needs of cancer patients. Located within the Stanford Cancer Center, the clinic runs in parallel with multiple oncology specialty clinics in order to deliver timely and efficient access for patients who develop skin conditions while undergoing cancer treatment. Prompt recognition and treatment of cutaneous complications of cancer therapy is critical in order to minimize skin-related interference to a patient's treatment course and to increase the quality of life of a cancer patient.
Pigmented Lesion and Melanoma Clinic at Blake Wilbur Building
Photodynamic therapy is a precise, patient friendly way to treat some skin cancers and precancerous growths caused by sun damage.

Phototherapy
Also called light therapy, phototherapy exposes the skin to lasers, LED, fluorescent lamps, and ultraviolet or infrared radiation to treat diseases.  Phototherapy may be used on the whole body or smaller areas.
Excimer laser treatment
A precise laser treatment for treating psoriasis, vitiligo, dermatitis, and other skin conditions without damaging healthy skin; requires shorter and fewer treatments than many other therapies.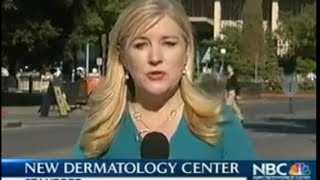 NBC Bay Area highlights how Stanford's dermato-oncology clinic addresses the skin-related side effects of radiation and chemotherapy.
Skin conditions arising during cancer diagnosis and treatment must be treated in a timely manner and thus, the clinic has been designed to accommodate urgent visits when needed.
The clinic is held daily at the Stanford Cancer Center.
Call us to make an appointment
For Health Care Professionals
HOW TO REFER
To refer to the Supportive Dermato-Oncology clinic, please contact the Cutaneous Oncology New Patient Coordinators at 650-736-5477 or DL-CancerCenterNPC-BW3@stanfordhealthcare.org
For urgent same or next-day referrals, please also contact the Supportive Dermato-Oncology Nurse Coordinator at pager 27136.
PHYSICIAN HELPLINE
Phone: 1-866-742-4811 
Fax: 650-320-9443
Monday – Friday,  8:30 a.m. – 5 p.m.
TRANSFER CENTER
Phone: 1-800-800-1551,  24 hours - 7 days a week
Stanford Health Care provides comprehensive services to refer and track patients, as well as provides the latest information and news for physicians and office staff. For help with all referral needs and questions visit Referring Physicians.