Notice: Users may be experiencing issues with displaying some pages on stanfordhealthcare.org. We are working closely with our technical teams to resolve the issue as quickly as possible. Thank you for your patience.
We are available to assist you 24/7.
New to MyHealth?
Manage Your Care From Anywhere.
Access your health information from any device with MyHealth.  You can message your clinic, view lab results, schedule an appointment, and pay your bill.
---
Supportive Dermato-Oncology Program
Supportive Dermato-Oncology Program
The mission of the Stanford Supportive Dermato-Oncology Program is to serve the dermatologic needs of cancer patients. Located within the Stanford Cancer Center, the clinic runs in parallel with multiple oncology specialty clinics in order to deliver timely and efficient access for patients who develop skin conditions while undergoing cancer treatment. Prompt recognition and treatment of cutaneous complications of cancer therapy is critical in order to minimize skin-related interference to a patient's treatment course and to increase the quality of life of a cancer patient.
Pigmented Lesion and Melanoma Clinic at Blake Wilbur Building
Overview
Led by Dr. Bernice Kwong, the Supportive Dermato-Oncology Program aims to provide accurate diagnosis and prompt management of cutaneous complications of cancer therapy, including but not limited to:
Chemotherapy-related skin rashes
Radiation dermatitis
Skin infections arising in the immunocompromised state of cancer diagnosis and anti-cancer therapy
Involvement of the skin by systemic cancer
Hair and nail changes due to anti-cancer therapy
Graft-versus-host-disease secondary to hematopoietic cell transplantation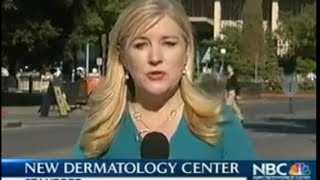 NBC Bay Area highlights how Stanford's dermato-oncology clinic addresses the skin-related side effects of radiation and chemotherapy.
Skin conditions arising during cancer diagnosis and treatment must be treated in a timely manner and thus, the clinic has been designed to accommodate urgent visits when needed.
The clinic is held daily at the Stanford Cancer Center.
Call us to make an appointment
For Health Care Professionals
HOW TO REFER
To refer to the Supportive Dermato-Oncology clinic, please contact the Cutaneous Oncology New Patient Coordinators at 650-736-5477 or DL-CancerCenterNPC-BW3@stanfordhealthcare.org
For urgent same or next-day referrals, please also contact the Supportive Dermato-Oncology Nurse Coordinator at pager 27136.
PHYSICIAN HELPLINE
Phone: 1-866-742-4811 
Fax: 650-320-9443
Monday – Friday,  8:30 a.m. – 5 p.m.
TRANSFER CENTER
Phone: 1-800-800-1551,  24 hours - 7 days a week
Stanford Health Care provides comprehensive services to refer and track patients, as well as provides the latest information and news for physicians and office staff. For help with all referral needs and questions, visit Referral Information.
Send referrals online
Place radiology orders
View referral status
Access medical records
Supportive Dermato-Oncology Program
900 Blake Wilbur Drive Palo Alto, CA 94304
650-498-6000
Getting Here »