New to MyHealth?
Manage Your Care From Anywhere.
Access your health information from any device with MyHealth.  You can message your clinic, view lab results, schedule an appointment, and pay your bill.
---
Center for Memory Disorders
The Stanford Center for Memory Disorders is dedicated to the fight against cognitive decline. There are many different causes of memory loss, and an accurate diagnosis by an experienced team is essential to getting the best treatment.
The Center is one of only about 30 National Institutes of Health (NIH) designated Alzheimer's Disease Centers in the United States, as well as a designated Alzheimer's Disease Research Center.
Center for Memory Disorders
Care and Treatment of Memory Disorders
Education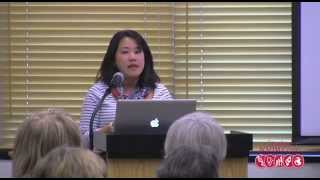 Neurologist Sharon Sha, MD, discusses dementia and aging at Stanford's 5th Annual Women's Health Forum.
Our Patients
Susan Harvell's memory lapses signaled early-onset Alzheimer's disease. Getting a clear diagnosis at Stanford has allowed her to plan her future with her family.
Clinical Trials
Clinical trials are research studies that evaluate a new medical approach, device, drug, or other treatment. As a Stanford Health Care patient, you may have access to the latest, advanced clinical trials.
Open trials refer to studies currently accepting participants. Closed trials are not currently enrolling, but may open in the future.
For your convenience, you may check in for all same-day appointments at the Stanford Neuroscience Health Center through a centralized, check-in desk near the front lobby. In addition to all outpatient services, you also can access onsite pre-surgery consultations at the center.
Call us to make, change or reschedule an appointment.
PREPARE FOR YOUR APPOINTMENT
Bring your completed New Patient Questionnaire, if applicable.
Bring someone who knows you well, such as a spouse, child, caregiver, or close friend to your appointment.

Call us to make an appointment
650-723-6469
For Health Care Professionals
Any patient with a progressive neurological syndrome that includes cognitive or behavioral symptoms is appropriate for referral. The earlier you refer a patient, the better. Patients with mild cognitive impairment may benefit the most from diagnosis and treatment, especially as emerging therapies become available. We see patients for one-time consultations, second opinions, and for longitudinal care.
PHYSICIAN HELPLINE
Phone: 1-866-742-4811 
Fax: 650-320-9443
Monday – Friday,  8:30 a.m. – 5 p.m.
TRANSFER CENTER
Phone: 1-800-800-1551,  24 hours - 7 days a week
Stanford Health Care (formerly Stanford Hospital & Clinics) provides comprehensive services to refer and track patients, as well as provides the latest information and news for physicians and office staff. For help with all referral needs and questions visit Referring Physicians.
HOW TO REFER
Call us at 650-723-6469 to refer a patient.
Before we see a patient, it is helpful (but not necessary) to test thyroid function (TSH and T4) and serum B12, and to have obtained magnetic resonance brain imaging.
Any prior brain imaging (films or CD) should be hand-carried to the appointment.
Track your patients' progress and communicate with Stanford providers securely online.
Memory Disorders Center
213 Quarry Road Palo Alto, CA 94304
650-723-6469
Getting Here »